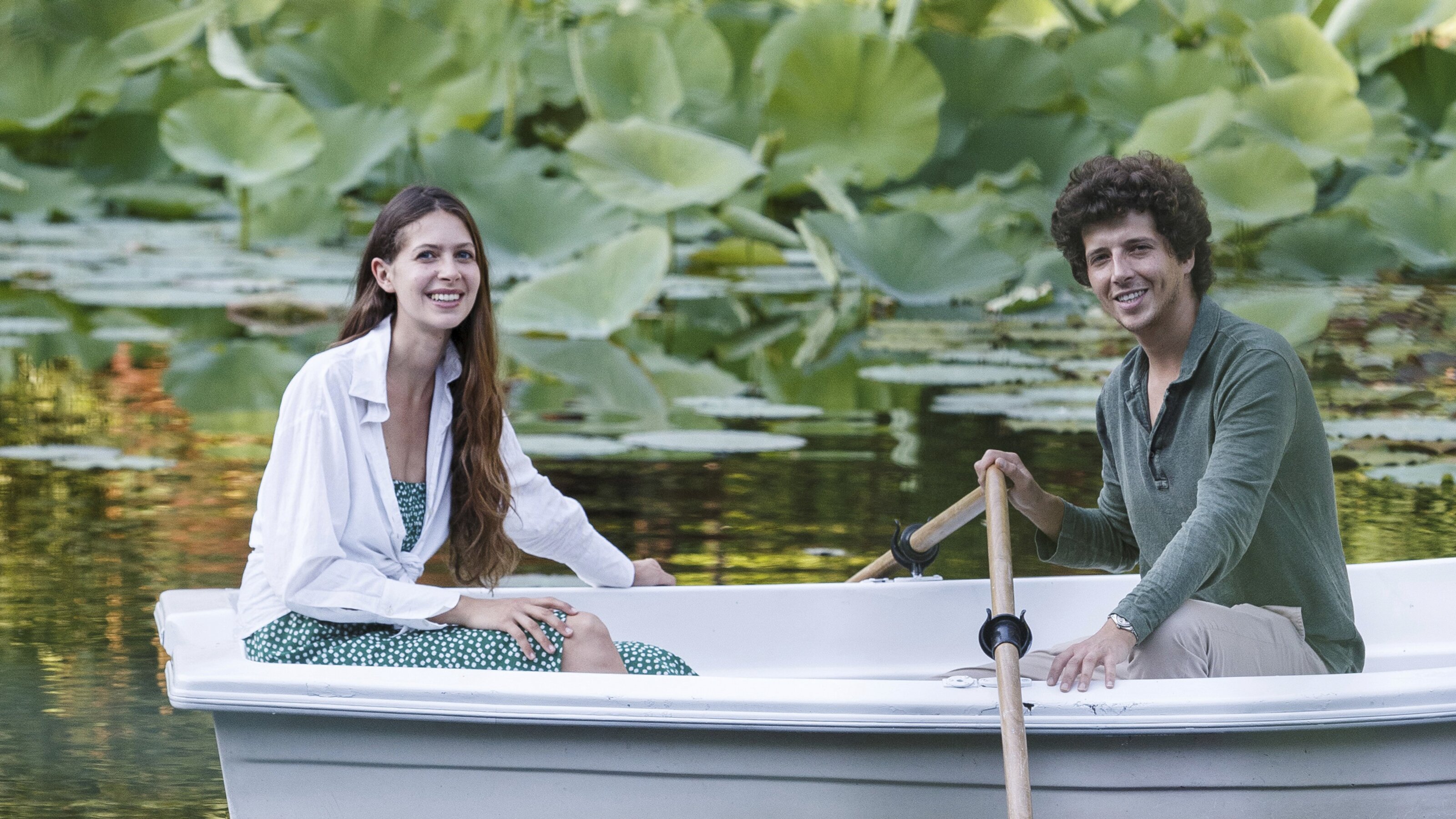 Freifrau visits Gemma & Niccoló
INTERVIEW
Not all that far away from the southern shore of Lago Maggiore and under an hour away from Milan lies, hidden among oak and chestnut trees, La Foleia. It's an estate formed of two villas facing each other across the still waters of an almost magical mere. Built in the 1980s, for a long time, the houses were owned by an Italian botanist and a philosopher before, in 2019, Milan residents Gemma Richards and Niccoló Rignano took them on – and had them completely renovated. What this young couple have created is place at once in line with contemporary standards and yet enchanted, wreathen in the charm of bygone years. Today, La Foleia offers two exclusive holiday homes with culinary features, an event location, a spa area, and nature – all with a truly attentive service concept. Freifrau met with creators Gemma and Niccoló to talk at length about the spirit of places, their love of vintage furniture, and guests from all around the world.
Freifrau: What is the story behind La Foleia? Did you find the location, or did it find you?
Gemma: It was Niccoló's parents who first brought it to our attention. They had seen that both villas were up for sale, but we didn't actually have any plans to move away from Milan. Once we'd seen photos of the place, though, we decided to at least come and take a look at the property. That was back in 2018, and from the moment we got here, it was love at first sight. It was December: it was cold, grey, and the lake was frozen over. And for ten, fifteen years even, no-one had really taken much care of the estate and the buildings; the previous owner was almost 90, and there probably came a point when he just didn't have the energy to deal with it anymore. Despite that, though, it didn't take us long to work out: we want to help this magical place to reawaken. All I can say is that it felt right. So in that sense, I think we can say that we came to the location and that the location came to us in equal measure. We were actually looking for somewhere in Milan: I'd finished studying psychology, Niccoló had his economics degree, and we'd just come back from travelling around the world. What we had worked out was that we wanted to set up in hospitality. What we hadn't ever even imagined, though, was that we would take on a project like La Foleia...
What is the meaning of the name "La Foleia"?
Gemma: The name is from medieval Latin and means "folly" in the sense of "madness". We chose the name because, at the start, it simply was utter madness to create this place, to make it the way it is now: as well as renovating the existing buildings – the eight-sided Villa Ottagonale and the slightly smaller Villa Padiglione opposite, we build a reception building, a catering kitchen, and a spa area.
So in what kind of condition were the two houses and the property generally when you first came?
Niccoló:
Well, La Foleia looked completely different to the way it does now. The Villa Padiglione, for instance, was little more than a shell with a living room inside. We had everything completely refitted, from the wiring and piping through to the flooring, bathroom, and kitchen; nevertheless, we tried to keep as much of the original as possible. It was actually the garden that took the most work, though: it was so overgrown that most of it had become an impenetrable thicket. On the one hand, it was fascinating to see how nature behaves when it is left to its own devices; on the other, work to make the garden accessible and usable is still going on to this day.
Take the water: the basin was so overgrown that you wouldn't have even used the word 'pond' to describe it. There was no circulation system, either, so the water was covered in algae and didn't smell particularly pleasant. As it was, we should have simply filled it in. But we looked at it and thought how good it would be to make a real lake out of it – and how good the view would be over the mere from one house to the other. And so that was decided: we had the mere between the neoclassical villas re-excavated so that it was fed from a natural source, and although we do use a filter, we've nonetheless created a natural ecosystem for the plants and animals around here. There are fish in the mere, for instance, who live off of the mosquito larvae in water all year round – with the effect that we really don't have many mosquitoes in summer. And we've made plenty of friends with our lake: wild geese stop off, as do herons, to lay their eggs, brood, and then move on once their young have hatched. It's beautiful to see that happen.
When you started work on the two villas, did you have a set plan in your minds – and a vision of what they should look like at the end?
Niccoló: Our principle was to try to keep as much of the archaic beauty of the place as possible – so to change as little as possible.
Gemma: The estate really does have a strong personality of its own, so when we got here, we thought: "Okay, this certainly is all a bit run down, but the place has its own identity, a spirit. We don't want to do anything that would compromise that. So our aim was to upgrade the buildings and their environs, to bring their faded beauty back into bloom.
Niccoló: You've got to remember that while the villas have an ancient air, they are not old: they were built in the late 1980s. Their style is neo-classical and we didn't want to change that at all. Our focus was more on the interior: we went to antiques markets across Italy and in France, too, looking for furniture and objects with their own stories, and tried to avoid new pieces to the greatest possible extent. That was partly a stylistic choice, but also because we wanted to be as sustainable as possible.
What role does the garden play at La Foleia?
Gemma: As I mentioned earlier, when we came here, the garden was all completely overgrown – yet despite that, it was obvious that it was part of what was so special here. We didn't just want to get to know it, but to really discover and understand it. Originally, it was laid out by the previous owners working with Gianfranco Giustina, a renowned figure who used to be head gardener at the Borromean Islands in Lago Maggiore and was named the best gardener in the world in 2014 by the Royal Horticultural Society. Through various coincidences and serendipities, we eventually got his mobile phone number and gave him a call. And he came back to the garden, bringing with him his nephews, who he had trained and who are now our gardeners; and Gianfranco still offers them – and us – his advice.
How would you describe your own personal relationship to La Foleia?
Gemma: It's certainly very strong. We've been living here ourselves since 2019 and spent all of Covid here. So we love this place – with all of the positives, but also the negatives. What are the negatives? All of the problems during the renovation! Some of them cost us a lot of time. And the positives? It's simply a fantastic place!
Niccoló: For a while, it was a love-hate-relationship for me. Everything we wanted to do seemed to take four or five times longer than originally planned: carrying out all of the various works, finding the materials, getting the right plants, the right furniture… All of this required a lot of attention over a long period. Now, though, it's just love – and it makes me very happy to see how much our guests enjoy La Foleia.
Gemma: Definitely! All the work we put in is now being repaid in equal measure by how happy people are when they come to us.
When you were refitting the villas, did you come across any hidden treasures? Any pieces of furniture that you decided to keep?
Gemma: There were actually a few things that the previous owner left behind – like these iconic lounger chairs. And we also kept a lot of the photos that are now on the walls.
Niccoló: And there's the old chaise longue, too. I can't think of any other piece of furniture which suits the house so well.
What kind of guests come to La Foleia?
Gemma: It's a real mixture. We opened during the Pandemic – a time when travel was forbidden in Italy. So we started organising photoshoots. Now, we get a lot of people up from Milan, and they book us primarily for special occasions or for a relaxing short break without a long journey. There are quite a few visitors from France, though, too – perhaps because there was a report about us on French television. We get couples, families, groups of friends, sometimes even work events. So overall, we have a real mix of people here from all over the world. There was even a Saudi prince…
What is your approach to hospitality?
Gemma: We're here – and we're not here! That means that we or our manager are always available to deal with things, but we don't get in the way. It's about knowing exactly when to make ourselves scarce – and about judging when people want conversation and when they want privacy and intimacy.
What do you want people to feel when they arrive at La Foleia?
Gemma: We want our guests to feel like they have arrived somewhere luxurious, but also authentic. So when you get here, you're not assaulted with expensive trappings and golden décor. Instead, you'll find something that feels special, but honest and open as well – an atmosphere we create using everything from fittings and materials through to the choice of food and drinks. People should feel at home, too, in the way that you do in a country idyll which has everything you need.
Niccoló: Exactly! We're not creating an aristocratic estate here. The idea is for guests to feel like La Foleia was always there, like they're coming to visit a really good friend.
Thank you for talking to us!